Intensive Care Medicine Festival honours ICRC research
At the end of January 2023, the 25th edition of the international conference Colours of Sepsis dedicated to sepsis and intensive medicine in adults and children took place in Ostrava. Among the international guests were, for example, Prof. Dr. Manu Malbrain from Belgium with his presentation "Why we need more awareness for early sepsis detection" and Prof. Marcin Osuchowski from the Ludwig Boltzmann Institute of Experimental and Clinical Traumatology in Vienna on the topic "Treatment of Sepsis by Phenotyping: a practical tool or wishful thinking?".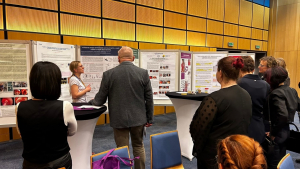 Photo: Dr. Hortová-Kohoutková during her poster presentation
The International Clinical Research Center (ICRC) of FNUSA and LF MU was successfully represented at this conference by Dr. Marcela Hortová-Kohoutková from the research team Cellular and Molecular Immunoregulation led by Mgr. Jan Frič, Ph.D (CMI). She presented a poster on the topic "Functional changes of monocytes and neutrophils as early markers of septic shock severity", which won the main poster section of Colours of Sepsis. "Our projects have long focused on the study of sepsis and septic shock, where the immune system plays a crucial role in their development and subsequent course. We are looking at functional changes in cells of innate immunity, especially monocytes and neutrophils. We have been able to show that patients with a poor prognosis have strongly altered functions of innate immunity. We are able to detect these changes already at the time of admission to the intensive care unit. Early analysis could help in the future to select patients who do not respond to conventional treatment and are therefore candidates for personalized treatment," says Dr. Hortová-Kohoutková.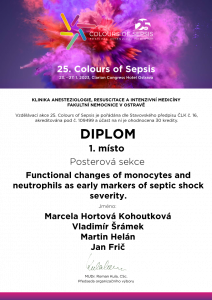 Diploma for 1st place in the Colours of Sepsis poster session
Along with the CMI team, other partners were involved in the project, namely the Intensive Care ICRC research team of Assoc. Prof. Dr. Pavel Suk, Ph.D. and colleagues from the Anaesthesiology and Resuscitation Clinic of the FNUSA. This confirms the excellent connection between the clinical and research part of the St. Anne's University Hospital in Brno.
Author: Marcela Hortová-Kohoutková, Ph.D., Senior Postdoctoral Researcher, Cellular and Molecular Immunoregulation ICRC
https://www.fnusa-icrc.org/wp-content/uploads/2022/12/logo-cmyk-hor-oz-16630U.jpg
0
0
Jiří Erlebach
https://www.fnusa-icrc.org/wp-content/uploads/2022/12/logo-cmyk-hor-oz-16630U.jpg
Jiří Erlebach
2023-02-24 09:14:29
2023-02-24 09:14:29
Intensive Care Medicine Festival honours ICRC research