Irena Rektorová: As a hospital, we cannot co-found a spin-off
In an interview with Irena Rektorova, a physician and head of the International Clinical Research Center (ICRC), a joint workplace of St. Anne's University Hospital Brno (FNUSA) and the Faculty of Medicine, Masaryk University (LF MU), we talked not only about how to run a research institution – unique in the Czech Republic – that combines research with direct patient care. We also asked about the EXCELES project and how to attract talented foreign scientists.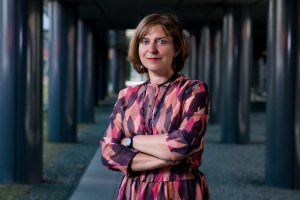 Since January 2022, when Irena Rektorova became the head of the ICRC at FNUSA, many things have happened. A joint workplace agreement with the Faculty of Medicine and a cooperation agreement with the Faculty of Science of MU have been concluded. Within the framework of the National Recovery Plan, one of the three pillars of the project focused on neurodegenerative brain diseases with cognitive impairment has been led, and thanks to the ICRC, FNUSA has been able to take over the coordination of the entire project. She also managed to negotiate the recruitment of a foreign scientist coming with an ERC Proof of Concept grant and much more.
In all this, Irena Rektorová continues to work in the outpatient clinic, coordinates the Neuroscience Programme at the Central European Institute of Technology (CEITEC) and leads her research team. She also sits on the boards of international medical organisations. Now she gave an interview for Vědavýzkum.cz.
Keeping in touch with live science
Do you remember that turning point when you got into organising and leading research activities?
The first time was probably when I became the head of the Centre for Cognitive Disorders at the First Neurological Clinic at the Faculty of Medicine of Masaryk University and FNUSA. I was leading a team of clinicians, organizing professional seminars, teaching of students and PhD candidates and thanks to that I was "staying in science".
With the establishment of CEITEC, a large shared laboratory MAFIL (multimodal and functional imaging) was created, fully operational since 2015, where a number of neuroscientists from both university hospitals, the Faculty of Medicine and other Brno institutions found refuge. While at the hospital we could only do research on brain imaging with MRI half a day a week, and only if it was not needed for an acute patient examination, at CEITEC two excellent three-tesla MRIs (3T MRI – ed.) were available purely for research. In addition, we were able to recruit great engineers, psychologists and scientists with backgrounds other than that of a neurologist, psychiatrist or radiologist.
That was a huge leap. From my medical practice, I was used to getting phone calls from patients all the time, and suddenly I could leave the hospital for two days a week and just focus on research, my students and my team. Working with PhD students and medical students interested in clinical research was and still is very recharging, although I have much less time for my team now than I used to.
I built this from basically scratch and in the process learned how to manage things – from constantly writing grants and checking that research is recruiting patients or volunteers as planned, to overseeing data quality, processing and interpretation, communicating results at conferences, to writing manuscripts and overseeing publication outputs to ensure that the project is evaluated to be excellent.
Clinics and research under one roof
What then brought you to the head of the FNUSA-ICRC?
The great advantage of the ICRC is that basic and clinical research is carried out under one roof. We are in a hospital where we have access to patients, plus researchers from the teams are very much connected and work on joint projects, which makes it easier to translate basic research into clinical practice. And the reverse is also true – we can test different side effects, such as the toxicity of new drugs on organoids in basic research. The interconnectedness goes both ways.
In this respect, you are a rather unique institution in our country. Was that also the main reason for its creation?
That would be a naive idea. (laughs) There was a lot of lobbying behind it, so that Brno would have two important institutions, the ICRC and CEITEC. And because at first it looked like only one would be created, they were not completely positive towards each other, which persisted for a long time.
In fact, one of the reasons why I was tempted to become the head of the ICRC was to normalize relations, which I hope I have succeeded. I don't so much mean the relationships of individual researchers who understood the need to work together, but rather those of the "heads".
I also managed to link the ICRC to Masaryk University. Since July, we have been a joint workplace of FNUSA and LF MU. Thanks to the connection with the university, we can also better access some structural grants from the Ministry of Education, Youth and Sports. With the creation of this "Brno platform" we are much stronger and more competitive, also in terms of fundraising.
So, what is the focus of the strengthened ICRC at the moment?
The big topic is that, through the ICRC, FNUSA is now coordinating one of the EXCELES call projects within the National Recovery Plan. It involves 11 institutions with a budget of just under 600 million crowns for 3.5 years. The project is expected to result in the creation of a National Institute for Neurological Research as an advisory body to the government.
At the same time, research on neurodegenerative diseases of the brain is being conducted, divided into three pillars: one on cognitive issues, which includes Alzheimer's disease, one on motor disorders such as Parkinson's disease, and then neurodevelopmental diseases such as dystonia or epilepsy.
Beyond the clinic
Could you elaborate on how the ICRC works in terms of research infrastructure?
In addition to the 23 research teams, we run 6 core facilities, such as the Center for Clinical Studies, the Biomedical Engineering Facility or our clean rooms for the development of cell and tissue therapies. These offer services not only to our researchers, but also externally – to the entire country and nearby foreign institutions.
On your website you also announce services in technology transfer and cooperation with the private sector. How are you doing in this area?
To put it simply – a hospital as a contributory organization cannot create spin-offs. The ICRC is unique in that it is the only research institution in the Czech Republic that functions within a hospital. We are working to negotiate with the Ministry of Health to find a way to transfer technology. And although we do not currently have sufficient apparatus or legislative conditions for this, a commercial department could certainly make a living in ICRC – several patents have already been created on our grounds.
The establishment of a joint workplace with Masaryk University gives us the opportunity to deal with some patents together, so we are now discussing mutually beneficial possibilities of cooperation. Contract research in the area of clinical studies in patients and animal models has been very successful at the ICRC for a long time and is one of the sources of funding for our research teams and core facilities.
"That's just the way it is" – the pitfalls of international collaboration
Broadening the scope, what are the ICRC's main international partners? And does this bring any pitfalls in addition to the obvious advantages?
From the very beginning, the ICRC has maintained a strategic partnership with the Mayo Clinic in the USA. It was facilitated by the financial "budget" dedicated to this collaboration at the time, which we no longer have today. So, immediately after I joined, I approached Professor Worrell, who was the coordinator of this collaboration at the Mayo Clinic, to clarify what research groups they would be interested in for joint grant submissions – without asking for a financial injection from us.
Unfortunately, this is the way it is at prestigious institutions – for example, it is also the case at Karolinska Institutet – that you have to pay for collaboration. Which is quite hard to imagine, but unfortunately it was probably important for the connection with the Mayo Clinic. It was subject to wide criticism, and I myself was critical of it, but it did help in some ways. For example, the fact that some of the scientists were able to go to America and bring back the know-how they had acquired, that helped to kick-start some of our groups. (laughs)
Today, however, we do our research with international partners purely through international or European grants, mostly Horizon-type grants, which we have managed to get.
How the ICRC convinces excellent scientists
How does it happen that a person gets the opportunity to create his or her own research team? At least at the ICRC?
Nowadays, through an open international selection process, which is determined by the new rules for the creation and dissolution of research groups that I pushed for when I joined the ICRC and which we have managed to put in place. Such an institution needs to be flexible and responsive over time. Some groups are simply not successful – they don't have great enough publications, they don't get grant funding, and they are not rated well by the "ISAB" (International Scientific Advisory Board) that we use to evaluate research teams. And therefore they will disappear.
Other groups will come into existence as people come in who are excellent in research and have the desire to start their own team with us. And because there is a limited number of excellent scientists in the Czech Republic, we are interested mainly in foreign junior scientists who have already achieved something in research and have the drive – such predatory pikelets.
How do you get to them? Do you actively seek them out?
If we know of a great scientist who would be a good fit for our portfolio, we can now put out an open call for applications. Anyone from home or abroad can apply, and we advertise both home and internationally. In the end, we choose the best one.
I would also like to push for researchers to come to us with their grants, especially of the ERC type. In December, Adam Williamson, a Canadian, will join us with an ERC Proof of Concept grant, and he is setting up a junior group here and partly at CEITEC VUT and is already applying for other grants. He will focus on non-invasive brain stimulation techniques, particularly electrical stimulation of deep brain structures, in patients with degenerative disease or epilepsy.
And in this particular case, have you approached this scientist directly? What attracted him to you?
First of all, he has a long-standing collaboration with Eric Glowacki, who came to CEITEC VUT with a similar ERC grant, and their activities are in the field of research that I have long been involved in clinically with my team at CEITEC MU, i.e. non-invasive stimulation methods. On the one hand, he has seen that foreign scientists with expertise in this field are beginning to meet with us. And finally, he saw that the ICRC is much more flexible and will create better conditions for him than Aix-Marseille Université and Karolinska Institutet, where he also works or has worked, and where, among other things, there are much higher "overheads", so he will get more from his grant for his research here.
Did he really know this himself, or did you convince him that he would find such conditions at the ICRC?
It was partly negotiation, partly Eric Glowacki convinced him, partly me. He's been here several times, he's seen the premises, I introduced him to the director of the hospital, the dean of the Faculty of Medicine knows about him. I think he got excited because I introduced him to the researchers in my group – he immediately tested how capable they were.
In addition, we are offering him the opportunity from the very beginning to lead the Ph. D. students, which we are able to share with him. His projects are already filed with the ethics committee, which usually approves them within a month or two. In short, as soon as he joins us, he can start doing research, which is something he can't get elsewhere.
But there are certainly bureaucratic, operational and other obstacles that you encounter when acclimatising foreigners…
To be honest, I have to say that the Czech authorities prevent foreigners from entering the country in the first place – for example, by requiring them to pay for insurance in advance. In addition, some foreign workers imagine that they will have everything provided for here, from a nursery for their children, a job for their partner to housing. And although we try to accommodate them within the boundaries we set, we can't do everything for them. Fortunately, we have an HR department that has been working on internationalisation as part of the HR Excellence in Research project.
Irena Rektor's normal week
Finally, I would like to focus on how do you yourself actually function in all this, or what does your, undoubtedly, busy working week look like?
When I started in January, I thought I would be able to "shake things up", but I am still shaking things up (laughs) – there are too many activities. What I know for sure is that I have meetings all day Monday, Tuesday I spend at CEITEC, Wednesday I am "ambulating" at the hospital, and Thursday and Friday I deal with things mostly related to the ICRC. In between that, of course, we submit grants and publish, then there's the weekend when I do work for the European Academy of Neurology and a whole bunch of other things.
What do you struggle with the most…?
Emails. I'm starting to hate them. (Laughs) The trouble is that all my meetings generate more work and it's impossible to just meet. But I have to say that I have great administrative teams around me, such as the operations, HR and Finance Departments, which process all the big grants, and a Grant Office that other hospitals don't have – which is also how we can do the EXCELES project, which otherwise only universities can do.
Author: Vědavýzkum.cz (MP)
Photo: Patrik Uhlíř
Article adapted for the ICRC website with permission of the author.
Irena Rektorová completed her internship at McMaster University in Canada before finishing her medical studies at the 1st Faculty of Medicine of Charles University, despite her parents' fears that she would not finish her interrupted studies (which was not common then as it is now). After specializing in neurology, she joined St. Anne's University Hospital (FNUSA) as an assistant professor at the 1st Neurological Clinic. She developed her academic career at the Faculty of Medicine of Masaryk University, where she was appointed Professor of Neurology in 2012. She headed the Centre for Cognitive Disorders and now serves as the head of the Centre for Abnormal Movements and Parkinsonism. In 2011, she built a research group at the Central European Institute of Technology (CEITEC) MU focused on applied neuroscience. Her research and medical practice focus on neurodegenerative brain diseases, cognitive disorders and dementia, or brain imaging and non-invasive stimulation techniques. In January 2022, she became the head of the International Clinical Research Center ICRC, a joint workplace of FNUSA and Faculty of Medicine MU. Internationally, she has been involved, for example, in the committee of the patient organisation European Parkinson's Disease Association (EPDA), served as scientific secretary of the International Association for Parkinson's Disease and Parkinsonism (IAPRD) and, since July this year, became a member of the committee of the European Academy of Neurology (EAN), the largest European expert neurological organisation cooperating with 47 national neurological societies.
https://www.fnusa-icrc.org/wp-content/uploads/2022/12/logo-cmyk-hor-oz-16630U.jpg
0
0
Jiří Erlebach
https://www.fnusa-icrc.org/wp-content/uploads/2022/12/logo-cmyk-hor-oz-16630U.jpg
Jiří Erlebach
2023-01-24 08:50:38
2023-01-24 08:50:38
Irena Rektorová: As a hospital, we cannot co-found a spin-off