HRS4R – HR AWARD
The International Clinical Research Center of St. Anne's University Hospital Brno is constantly working to improve the working conditions of researchers and, as proof of her efforts, committed to adhering to the principles set out in the European Charter for Researchers and the Code of Conduct for the Recruitment of Researchers (Charter and Code). On 4 December 2019, it sent a letter to the European Commission declaring its commitment, initiating steps to receive the Human Resources Excellence in Research Award (HR Award).
HR Award
The HR Award is an award given by the European Commission to research institutions that implement a human resources strategy for researchers. The individual principles commit the institutions to creating a working environment and setting up an internal culture that helps to build the European Research Area, creates space for the professional and career development of researchers and ensures transparent recruitment procedures. It sets out clear standards that researchers can expect from the institution that employs them, as well as the commitments and responsibilities of the researchers themselves.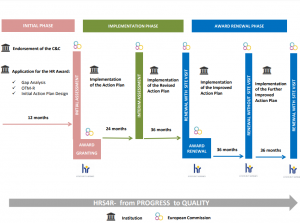 Human resources strategy for researchers
The Human Resources Strategy for Researchers (The Human Resources Strategy for Researchers also known as HRS4R) is a mechanism through which the European Commission (EC) seeks to ensure that institutions take concrete steps to improve working conditions for researchers across Europe.
Reasons for implementing HRS4R for FNUSA-ICRC
Better chances of obtaining funding for research from European and domestic programs to support research – benefits in the HORIZON 2020, TAČR, GAČR and other programs
Increasing international prestige and attractiveness
Improving the quality of care for human resources
Support of internal processes
The impetus for changes in inner culture
Connection with the pan-European network of research organizations
Benefits of HRS4R implementation for the researchers themselves
Creating the conditions for a more attractive career in research and development
Ensuring transparent recruitment and selection of new researchers
Professional development and retention of the best employees
Meeting the needs of researchers
Contact persons
Mgr. Milan Košdy – Head of HR
Mgr. Silvia Vašulková – Senior HR Specialist
---
PROJECT SCHEDULE
PHASE – Initiation – year 2020
Stakeholder involvement (Supervisory Board, working groups, researchers)
Setting up working groups
Collecting data for GAP analysis, especially through a questionnaire survey, focus groups and in-depth interviews
Analysis of the current situation in FNUSA-ICRC in connection with the fulfillment of the principles stated in the Charter and the Code (GAP Analysis)
Preparation of the Action Plan according to the findings resulting from the GAP analysis (closing individual gaps to the principles set out in the Charter and the Code)
Submission of all documents that will be sent to the European Commission to the Supervisory Board
Sending the GAP Analysis, Action Plan and other documents to the European Commission