Like a Michelin star: ERC grant holder Adam Williamson joins the ICRC
International Clinical Research Center (ICRC) saw a successful start of the year 2023 welcoming Dr. Adam Williamson aboard. A renowned neuroscientist, who just received a prestigious ERC Consolidator grant, opens a new Neuromodulation Technology research team in the ICRC. He will investigate methods of activating the central and peripheral nervous system to define promising treatment options for diseases such as bowel inflammation, epilepsy, and neurodegenerative disorders.
As Dr. Williamson explains: "I focus on non-invasive deep brain stimulation, primarily in epilepsy. We utilize electrodes placed on the skin which emanate electric fields. These electric fields combine in space, at deep brain regions, far below the skull and activate neurons to create desired brain reactions, for example the suppression of pathological epileptic activity in patients with epilepsy or the enhancement of memory retrieval in healthy participants during cognitive tasks."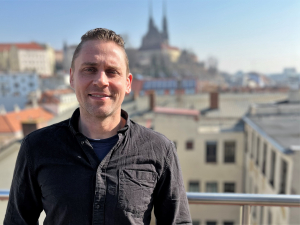 Adam Williamson (Photo by the ICRC)
A Canadian, who studied theoretical Electrical Engineering in Texas, received his PhD at the University of Ilmenau, Germany. He has worked in Sweden at the prestigious Karolinska Institutet and other universities. His last posting before coming to Brno was with Inserm in France. Starting as an engineer, he gradually became a neuroscientist with the ability to apply new technologies to clinical research.
His research has been widely supported by the European Research Council (ERC) grants under the EU's Horizon Europe programme. He is a recipient of a total of four ERC Grants (ERC Starting Grant in 2016, ERC Proof-of-Concept in 2020, ERC Proof-of-Concept in 2022 and ERC Consolidator in 2023). The last two ERC grants are now being transferred to the ICRC for implementation, with the latter entitled "Epilepsy Treatment Using Neuromodulation by Non-Invasive Temporal Interference Stimulation" (EMUNITI).  Among the considerable competition, he ranked alongside 321 researchers, who have won 2022 ERC Consolidator Grants, dividing the total €657 million. The grant promises a five-year long support of the research. Dr. Williamson is now creating his new team entitled "Neuromodulation Technology" for which he has started recruiting PhD students, postdocs, and technicians.
"I am delighted that we have been able to attract such an eminent foreign scientist to the ICRC. Having an ERC grant holder is both a privilege and commitment for us – to provide his team with a supportive environment. The prestige for our institution is comparable to Michelin star restaurants, with top level gastronomic experience and best chefs being equal to cutting-edge research and top scientists", comments prof. Irena Rektorová, the Head of ICRC, on the recent successful partnership. Dr. Williamson follows: "I am very impressed with the staff and support at ICRC every day. Prof. Rektorová has created an atmosphere which is extremely effective and well-organized for top-level clinical research. I suspect to see many more ERC holders coming to Brno in the future."
Shortly after his arrival, the new scientist has also been welcomed by the Mayor of the City of Brno, Mrs. Markéta Vaňková, at the yearly Meet the Mayor event for new foreign talents from local institutions and companies. He will conduct his research in collaboration with the research group of Assoc. professor Eric Glowacki at CEITEC VUT, researchers from the Neuroscience Program at CEITEC MU, and colleagues from the 1st Department of Neurology, the 2nd Department of Internal Medicine, and the 1st Department of Internal Cardio-angiology of St. Anne's University Hospital Brno and the Faculty of Medicine of Masaryk University. For the moment, he is slowly settling in the city, discovering its beauties. "Tatarák is amazing!", he concludes.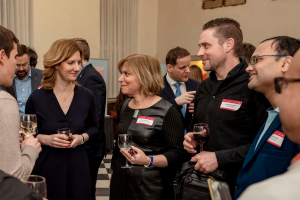 Meet the Mayor event, 3 February 2023 (Photo by the City of Brno Municipality)
Author: Marta Vrlová, M.A., MPH, Senior PR Specialist ICRC, marta.vrlova@fnusa.cz.
Contact for media: Ing. Jiří Erlebach. Head of PR and Marketing, Spokesperson, FNUSA, +420 543 182 006. jiri.erlebach@fnusa.cz.
The ERC and grant options
The European Research Council, set up by the European Union in 2007, is the European funding organisation for excellent research, funding creative researchers to run projects based across Europe. The ERC offers four core grant schemes: Starting Grants, Consolidator Grants, Advanced Grants and Synergy Grants. With its additional Proof of Concept Grant scheme, the ERC helps grantees to bridge the gap between their pioneering research and early phases of its commercialisation. The ERC is led by an independent governing body, the Scientific Council. Since 1 November 2021, Maria Leptin is the President of the ERC. The overall ERC budget from 2021 to 2027 is more than €16 billion, as part of the Horizon Europe programme, under the responsibility of the European Commissioner for Innovation, Research, Culture, Education and Youth, Mariya Gabriel. For more information follow https://erc.europa.eu.
International Clinical Research Center
We are a modern center of scientific excellence based in Brno, Czech Republic, oriented on preclinical and clinical research, mainly in the fields of cardiology, neurology and oncology. We search for new diagnostic and therapeutic methods, technologies and drugs. By putting our findings into practice, we improve patient care and quality of life. In July 2022, we became a joint workplace of St. Anne's University Hospital Brno (FNUSA) and the Faculty of Medicine of Masaryk University (LF MU) in Brno. We develop relations and cooperation with other key players, both internationally and within our region. Our activities are included in the action plan for implementation of #brno2050 strategy, thus shaping the future of #brnoregion. Visit www.fnusa-icrc.org for more details about us.
https://www.fnusa-icrc.org/wp-content/uploads/2022/12/logo-cmyk-hor-oz-16630U.jpg
0
0
Jiří Erlebach
https://www.fnusa-icrc.org/wp-content/uploads/2022/12/logo-cmyk-hor-oz-16630U.jpg
Jiří Erlebach
2023-03-15 15:03:46
2023-03-15 15:03:46
Like a Michelin star: ERC grant holder Adam Williamson joins the ICRC