Scientists from the Noninvasive cardiac imaging – CMR team at the International Clinical Research Centre of St. Anne's University Hospital in Brno have published a study entitled "Stress pulmonary circulation parameters assessed by a cardiovascular magnetic resonance in patients after a heart transplant". It was published in Scientific Reports (IF 4,996) and deals with the use of cardiovascular magnetic resonance in the assessment of selected parameters of pulmonary function.
"The aim of this study was to investigate novel pulmonary circulation stress parameters in patients after heart transplantation.  These patients were hypothesized to have mild diastolic dysfunction, which is more pronounced under stress conditions. The results of comparison of the obtained parameters with the control group of patients confirm this assumption. We were also the first to use "ratio" parameters, which work with the ratio of stress and rest parameters" said the first author of the paper, Lukáš Opatřil, MD.
The pulmonary circulation parameters obtained by non-invasive methods are not completely new. Resting forms in different forms and obtained by different methods have been studied for years. However, the most recent method is cardiac magnetic resonance, which offers significant advantages over other methods and is the only one that can determine stress parameters. From the analysis of data obtained in this way, parameters such as pulmonary transit time (PTT), pulmonary transit beats (PTB) and pulmonary blood volume index (PBVI) can be obtained. Similarly, their variations during exercise can be obtained.
These parameters could be used in the future to determine diastolic dysfunction. Thus, a study conducted on a group of 48 heart transplant patients provided further evidence of pulmonary circulation parameters obtained by cardiac MRI. It investigated stress parameters in this group as a potential marker of diastolic dysfunction and introduced ratio parameters as potential new biomarkers.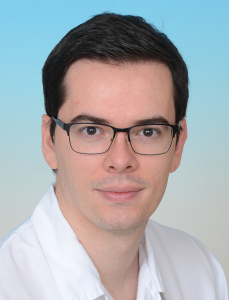 https://www.fnusa-icrc.org/wp-content/uploads/2022/12/logo-cmyk-hor-oz-16630U.jpg
0
0
Jiří Erlebach
https://www.fnusa-icrc.org/wp-content/uploads/2022/12/logo-cmyk-hor-oz-16630U.jpg
Jiří Erlebach
2022-08-05 11:56:34
2022-08-05 11:56:34
New uses of cardiac MRI