Prestigious award for Kateřina Sheardová
Zdeněk Strmiska (1925-2009) was a prominent Czech sociologist. Since 1962 he lectured sociology at the University of 17 November in Prague to students from francophone countries. His dream came true with the founding of the Institute of Sociology in Prague in 1965, where he became the scientific director. In 1968 he went to France for a two-year study stay, where he stayed after the Sociological Institute in Prague was closed. For more than 15 years, he served as director of the Sociological Institute of the C.N.R.S. in Paris. He was also a visiting professor at the University of Caracas. His illness with Alzheimer's disease led to the decision to financially support research and training of professionals in this field.
Thanks to the generous gift of Mrs. Eliska Strmiskova, the Alzheimer Foundation has been awarding the Eliska and Zdeněk Strmiskova Prize for Distinguished Contribution to Research and Treatment of Alzheimer's Disease and Related Neurodegenerative Diseases since 2017.
The recipient of this prestigious award for the year 2021 is Kateřina Sheardová, M.D., Ph.D., neurologist at the First Neurological Clinic of the Faculty of Neurology and the Faculty of Medicine of the Medical University of Brno and head of the Brno section of the Dementia Research Team of the International Clinical Research Centre of St. Anne's University Hospital in Brno. She specializes in neurodegenerative diseases and memory disorders. She is co-founder of the first aging study in the Czech Republic "Czech Brain Aging Study". Her main research interests are preventive measures, healthy lifestyle and techniques that influence Brain maintenance and help prevent chronic stress such as yoga, meditation and mindfulness techniques.
Congratulations!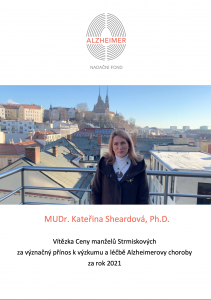 https://www.fnusa-icrc.org/wp-content/uploads/2022/12/logo-cmyk-hor-oz-16630U.jpg
0
0
Jiří Erlebach
https://www.fnusa-icrc.org/wp-content/uploads/2022/12/logo-cmyk-hor-oz-16630U.jpg
Jiří Erlebach
2022-01-21 14:56:27
2022-01-21 14:56:27
Prestigious award for Kateřina Sheardová