Representatives of the ICRC received a certificate from the Swedish Ambassador H.E. Frederik Jörgensen on the successful completion of the gender pay equity analysis by Logib.
The International Clinical Research Centre (ICRC) in Brno is among 18 institutions and companies awarded for the Gender Equity Assessment. The presentation of the certificates took place on 12 September 2022 at the Embassy of Sweden in the Czech Republic, aptly underlining the importance of the Nordic countries in equality and diversity issues.
The ICRC is among the first employers to undergo this assessment. At the same time, we are the very first hospital representative in the country. We thus subscribe to the principles of transparency and fairness in gender pay. The analysis is part of the implementation of the FNUSA-ICRC Gender Equality Plan for the period 2022-2024.
The Logib tool is an analytical tool that allows employers to assess the status of equal pay for their employees. It is a summary of the gender pay gap by gender and educational attainment, length of experience with a given employer, and the demands and responsibilities of the job.
The first step is to assess the situation, analysing the trend from 2021 and 2022. Based on the results, we will develop a plan for the next steps towards a fairer remuneration system. We want to weigh everyone equally, as the scale our representatives received as a gift with their certificate suggests.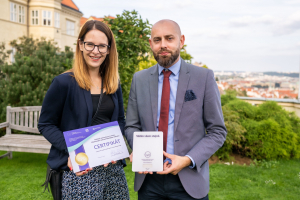 ICRC representatives, Zuzana Hochelová and Milan Košdy, at the certificate ceremony
https://www.fnusa-icrc.org/wp-content/uploads/2022/12/logo-cmyk-hor-oz-16630U.jpg
0
0
Jiří Erlebach
https://www.fnusa-icrc.org/wp-content/uploads/2022/12/logo-cmyk-hor-oz-16630U.jpg
Jiří Erlebach
2022-11-08 19:51:51
2022-11-15 19:54:27
We want to be fair