Brno City Prize awarded to Prof. Šulcová
Prof. MUDr. Alexandra Šulcová, CSc, FCMA, ECNP, FCINP dedicated her professional life to pharmacology at the Faculty of Medicine of Masaryk University, where she joined after graduation in 1970. From 1990 to 2011 she was the head of the Institute of Pharmacology at the Medical Faculty of Masaryk University. She then became the head of the Experimental and Applied Neuropsychopharmacology research group of the Central European Institute of Technology CEITEC at Masaryk University. Currently she is working at the Cannabis Research Center of the International Clinical Research Centre of St. Anne's University Hospital in Brno. The focus of her professional interest is the neuropsychological effects of substances contained in cannabis and in general research on the neurobiology of drug addiction and the effects of drugs on motor skills, emotionality and cognition.
Her pedagogical contribution is also significant. She has introduced progressive teaching and testing methods and supported the career development of her postgraduate students, who have always strived to compete in a challenging domestic and international environment. In 2013, she received the Milada Paulová Award for her scientific work in the field of experimental and clinical pharmacology and toxicology, an award given by the Ministry of Education, Youth and Sports of the Czech Republic in cooperation with the National Contact Centre – Gender and Science of the Institute of Sociology of the CAS to female scientists in recognition of their research work. She has served as a member of the committees of several national and international scientific societies. She is an Honorary Member of the "Czech Society for Experimental and Clinical Pharmacology and Toxicology", Honorary Member of the "Czech Neuropsychopharmacological Society", for which she worked for many years as a committee member and as President (1999-2000). Her professional experience is also confirmed by her membership in the executive committees of international professional societies: the ECNP (European College of Neuropsychopharmacology), CINP (Collegium Internationale Neuropsychopharmacologicum). She was elected vice-president of CINP in 2010-2014. In 2014 she was elected a member of the Czech Medical Academy (FCMA).
The awarding of the Brno City Prize is an expression of respect for a personality who has been active in Brno all her life and has built its high reputation through her scientific and pedagogical activities.
First of all, let me congratulate you on the award of the Brno Prize in Medical Science and Pharmacy. What does this award mean to you?
Perhaps you cannot imagine how much… It has brought me many joys, the biggest of which is that the city of Brno has appreciated and thus recognized the importance of my scientific field, i.e. Preclinical and Clinical Pharmacology. This is significant for us in that the field is introduced to the general public and is not confused directly with the field of pharmacy (i.e. the medical branch that serves to provide medicines for patients, which of course includes their research, production, distribution. A health professional involved in pharmacy is called a pharmacist; the related academic degrees are Master of Pharmacy and Doctor of Pharmacy. Postgraduate education and successful defence of dissertation research in pharmacology are associated with the award of the degree of Ph.D. (formerly known as CSc. in the Czech Republic). I have also learned that the proposal for my award with this prestigious Brno City Prize was submitted to the Brno City Council by younger members of my former team of the Institute of Pharmacology, where I worked as its head for a number of years and they successfully defended their habilitation as associate professors. This in itself is a great honour for me and emotionally I owe them my great thanks. Last but not least, my father would certainly share my joy: Major General Otmar Kučera, DFC (Distinguished Flying Cross); during the war Commander of the 313th Fighter Squadron of the Royal Air Force, Honorary Citizen of the City of Brno. It's like hearing what he would say about winning the City of Brno Award: "Daughter, so we both, against all odds, worked at home and abroad as: 'proper Brnoers'.
When you think back to your beginnings, did you want to pursue pharmacology on purpose or was it more of a coincidence?
In truth? Well, it was like this: at the Faculty of Medicine of MUNI I successfully graduated with my two-year-old daughter and my husband, who moved from Prague to Brno for us. I was keen to get a place in the field of gynaecology, which I was very interested in during my undergraduate studies. However, somehow a place could not be found in Brno, but there was a position as an assistant in Pharmacology. Well, I took it (thinking that it would not last forever). And you see how it turned out – scientific pharmacology = my destiny and then my goal.
What do you consider your greatest career achievement?
I think it is difficult to praise myself, but in any case I am very happy that I have kept a clear conscience of direct and as responsible as possible in all my professional positions, whether it was in the leadership of the Institute of Pharmacology of the Faculty of Pharmacology of MUNI, or in the position of vice-dean or candidate for dean of the Faculty of Pharmacology of MUNI, or head of the Pharmacology Research Group of CEITEC MUNI, or in carrying out activities in the committees of prestigious national and international professional societies, as well as state institutions (e.g. NIDA (USA: National Institute on Drug Abuse), where for many years I cooperated in organizing international events (including those organized in the Czech Republic) within the "NIDA International Program".
Are your former students following in your footsteps or are they pursuing other fields?
I wouldn't call it that, some of my younger colleagues are following in my footsteps. My joy, however, is the fact that many of them have been successfully employed in pharmacological positions not only at MUNI, but some of them also abroad, mostly at highly reputable either pharmacological or pharmaceutical institutions. Directly at the Department of Pharmacology of MUNI, which I had the honour to lead for many years, a number of teachers have defended their PhD degrees and 4 of my colleagues have defended their scientific and teaching activities and the title of Associate Professor of Pharmacology, which of course I evaluate very positively and I am very happy about it.
You are considered a co-founder of Ethopharmacology in Central Europe, how would you describe this field to the readers?
The name "ethopharmacology" itself is meant to suggest that it is a combination of the approaches of ethology (i.e. the biological science that deals with the study of animal behaviour, including humans) and pharmacology, which studies the neurobiological processes involved in the regulation of behaviour.
When I was allowed to pursue a postgraduate degree in pharmacology, I was allowed to choose the laboratory in which I wanted to be active after a successful admission procedure at the Institute of Pharmacology of the Czechoslovak Academy of Sciences in Prague. After familiarizing myself with the institute's possibilities at that time, I immediately chose the newly developing "Ethopharmacological" department, which, after getting acquainted with the methods used and the content of the published results, immediately impressed me. My enthusiasm lasted not only during my postgraduate studies and the successful defence of my dissertation. I presented the results at several professional conferences and also at the international "International Conference on Ethopharmacology", then held in Athens. I was recognized after my presentation and during an interesting discussion I met a number of eminent ethopharmacologists from different countries from all over the world. (At that time, ethopharmacology was most developed in the USA and in Europe in England). This is how disciplinary friendships are formed! It is perhaps understandable that my ethopharmacological approach to research was reflected in the choice of topics for PhD students accepted at our Pharmacology Institute, where I was their supervisor. Gradually, with the help of defended applications for research grants, the appropriate preclinical technical laboratory equipment of our institute was improved and thus we had more and more plausible and accepted for publication ethopharmacological experimental studies also by our PhD students and also their presentation at international scientific conferences. We started to successfully organize such international conferences in our country. I was elected to the committee of the European Behavioural Pharmacology Society ("EBPS" = European Behavioural Pharmacology Society). The professional pharmacological societies communicate with each other, of course, even the international ones. They are interested in each other's activities. I gradually became a member of several international pharmacological professional societies and was elected to their committees for my professional activity. These societies then award the honorary title of "Fellow" for services rendered. Thus, I gradually received the honorary titles, which I greatly appreciate: FECNP (Fellow – European College of Neuropsychopharmacology); FCINP (Fellow – International College of NeuropsychopharmacologyC); and FCMA (Fellow Czech Medical Academy).
The pharmacological approach was also used at the Institute of Pharmacology of the Faculty of Pharmacology of MUNI to investigate the pharmacological relationships of methamphetamine (methamphetamine) addiction, which is the most widely used drug in the Czech Republic. The pharmacological mechanisms of action of this drug are described. Ways to help in getting rid of addiction to it or other substances are sought.
An important direction of such research is the investigation of the relationship of the so-called human endocannabionoid system, which produces substances with similar regulatory effects to those of the cannabinoids contained in cannabis. This system exists essentially throughout the vertebrate body, including in humans, and can cause a variety of diseases if it does not function properly. For example, its deregulation in the brain can lead to schizophrenic disorders, depression and anxiety. We are trying to understand the functioning of this system and, more importantly, how it can be influenced therapeutically in various indications, including addictions. This is one of the interests of the FNUSA-ICRC Cannabis Research Center, of which I have the honour of being a member.
So you are currently working in our Cannabis Research Center. What led you to this decision?
I was very happy to accept the opportunity to be a member of this centre, even at my age, whose activities and activities I appreciate very much. I try to be a valid member in the professional discussions of the team to address the working activities of the Center, the publication of the results achieved through professional lectures or publications, I think it is also important to establish the widest possible international working contacts and cooperation with experts in the field of cannabinoid research and its practical use. I have long-standing "work-community" personal friendships with experts in this field, which are also certainly an important supporting component in achieving cannabinoid research and treatment success. I believe they would not mind if I took the liberty of quoting them here, as they are not reluctant to work with our center. Among the most important is certainly Professor Raphael Mechoulam from Israel, who was the first to carry out the total synthesis of the main plant cannabinoids Δ9-tetrahydrocannabinol, cannabidiol, cannabigerol and various others. Another major research project initiated by him was the isolation of the first described endocannabinoid in the vertebrate body (including man) – anandamide, in which two of his postdoctoral fellows, namely the Englishman William Devane and our Czech colleague Lumír Ondřej Hanuš, who was awarded the 12th Faculty of Medicine of Masaryk University upon my proposal. On April 4, 2007, on my proposal to the Masaryk University, I was awarded the honorary degree of Doctor honoris causa in the field of chemical sciences. I have had the honour of being able to collaborate with these scientists in research and to publish some of their results together. We continue to be in active contact, one of the proofs of which is also their willingness to be in personal working relations with us, e.g. also at professional international conferences and those organized by our center at FNUSA-ICRC.
What would you say to students who are thinking about working in science and research?
GO FOR IT!
Prepare for all kinds of pitfalls, after all, as in any work activity; take advantage of all possible (nowadays available) professional and international collaborations that will bring progress.
I wish you much joy in your work, and in the results of your work being achieved and accepted. Good luck!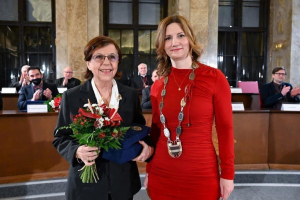 https://www.fnusa-icrc.org/wp-content/uploads/2022/12/logo-cmyk-hor-oz-16630U.jpg
0
0
Jiří Erlebach
https://www.fnusa-icrc.org/wp-content/uploads/2022/12/logo-cmyk-hor-oz-16630U.jpg
Jiří Erlebach
2022-04-05 19:01:02
2022-04-05 19:01:02
Brno City Prize awarded to Prof. Šulcová