Lifestyle programme helps to lose excess fat without drastic diets
Lose ten kilos in a month without exercise. Prepare a twice-daily drink based on the latest scientific findings and the pounds will come off on their own. Smear yourself with a magic cream made from a secret blend of herbs and the fat cells will dissolve in your body. Such slogans are encountered by most of us today and every day. However, once people invest often considerable money in the products, they find that the result is always the same. The desired effect is simply not achieved without work.
At the beginning of March, the fight against excess fat is also being launched by Kardiovize 2030 at the St. Anne's University Hospital in Brno. Unlike miracle drugs, however, it does not promise miracles on the spot. "In the new Lifestyle Programme, we are trying to instil the principles of a healthy lifestyle in our clients, advising them on diet, exercise, but also on their psyche, which is an important part of any life change," said Jiří Erlebach, spokesman for St Anne's Hospital.
The annual Lifestyle Program will offer twenty-two one-hour group sessions with a coach to discuss all topics related to a healthy lifestyle. They will be supported by other participants with whom they will exchange knowledge during the groups. "I have to say that the group has motivated me a lot to lose weight. I knew I was not alone in this. And when I had a problem, not only the coach helped me with it, but also the other members who had solved a similar problem in the past," said Jitka, who completed the pilot version of the programme last year.
Junk food won't fly out of the fridge
Experts from Cardiovision 2030 also know that losing weight is not a matter of a short time. It's all about creating long-term habits. That's also why drastic diets don't work, as people often go back to their old habits after they stop. "I'm certainly not going to throw food out of the fridge or ban people from eating. On the contrary, we will think together about which foods are better for us and look for healthier alternatives," explained Martina Bruzlová, a coach and coordinator of the programme.
Nutritional therapist Monika Kunzová will also be available to the participants throughout the programme. "I will explain to clients the importance of all nutrients and their functions in the body. They will be able to contact me even if they are hesitant about whether a given food fits into their diet," she informed.
The one-year course starts in March
Those interested in making a lifestyle change should not hesitate in signing up for the programme. It starts in March. Capacity is also limited. "Because we want to have enough time for everyone, there will be a maximum of twelve participants in each of the two groups," Bruzlová pointed out. She added that in case people cannot attend all the lessons, there is an alternative in the form of a video. "Those who do not want to share their feelings with the group can then pay extra for private sessions," she noted.
The cost of the programme starts at 950 CZK per month, with the price going up by 250 CZK per month in case of individual consultations. People can find more information on the project's website.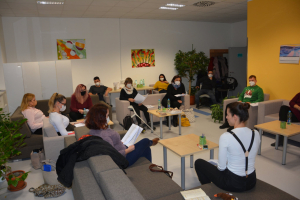 https://www.fnusa-icrc.org/wp-content/uploads/2022/12/logo-cmyk-hor-oz-16630U.jpg
0
0
Jiří Erlebach
https://www.fnusa-icrc.org/wp-content/uploads/2022/12/logo-cmyk-hor-oz-16630U.jpg
Jiří Erlebach
2022-03-17 17:48:13
2022-03-17 17:48:13
Lifestyle programme helps to lose excess fat without drastic diets