Zdeněk Stárek succeeds in the Doctor of the Year poll
MUDr. Zdeněk Stárek, Ph.D. from the St. Anne's University Hospital in Brno has won the Jesenius Award, which is intended for doctors who have made the greatest contribution to the progress in medicine. The winners of the Jesenius Prize are nominated by professional and interest organizations, and a specific person is selected by a committee of experts under the auspices of the Patients' Union.
Zdeněk Stárek is the head of the electrophysiology department at the First Internal Cardiac Angiology Clinic of St. Anne's University Hospital in Brno and the Faculty of Medicine of the Medical University of Brno, as well as the head of the Interventional Cardiac Electrophysiology research team of the International Clinical Research Centre of the FNUSA. "I appreciate the award very much, but it is the result of cooperation of the entire research team and other partners, so I see it as a team award," said MUDr. Stárek. Director of St. Anne's University Hospital in Brno Ing. Vlastimil Vajdák added: "Of course, I am happy for every award for the excellent work of our experts. It is all the more important when success in the field of science comes together, which in turn translates into successful treatment of patients. This is a concrete example of how beneficial the connection between a hospital and a science centre is. Congratulations to Dr. Stárek."
Zdeněk Stárek received the award in particular for his contribution to the Czech patent and utility model of the alternating electroporation generator, which is a non-thermal energy source that enables ablation of the heart muscle during catheter treatment. The new solution will particularly help patients with cardiac arrhythmias and in earlier diagnosis of several types of cancer. Thermal radiofrequency energy is currently used as a standard treatment for cardiac arrhythmias, i.e. ablation (literally stripping) of abnormal heart tissue, but it can damage surrounding structures such as the oesophagus. The Czech patent is registered together with the Brno University of Technology.
The Doctor of the Year poll has long-standing auspices of the Czech Medical Society J. E. Purkyně. This year it was held for the thirteenth time.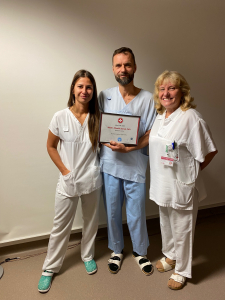 https://www.fnusa-icrc.org/wp-content/uploads/2022/12/logo-cmyk-hor-oz-16630U.jpg
0
0
Jiří Erlebach
https://www.fnusa-icrc.org/wp-content/uploads/2022/12/logo-cmyk-hor-oz-16630U.jpg
Jiří Erlebach
2021-10-07 11:52:58
2021-10-07 11:52:58
Zdeněk Stárek succeeds in the Doctor of the Year poll